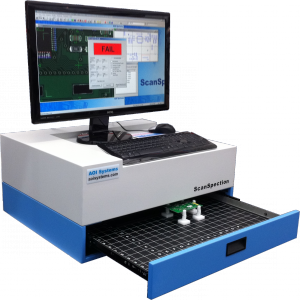 ScanSpection – the revolutionary scanner system, for the inspection of low to medium volume PCB Assemblies were programming is not required. The system compares between a known good (Gold) board and a sample board.
The system automatically aligns and flips between the two images testing the board using a predefined test routine for the board under inspection. The "Test Board" function allows the comparison of specific areas of the board ensuring a precise and consistent method of test from inspector to inspector.
Highlighting defects using "Fault Markers" & "Classifications" not only lets you see the fails on screen but allow the operator to print the image with all the faults defined. This information can be tagged to the board & used for rework purposes. Additionally this information can be called up at a later date in report format and used for the creation of high level SPC reporting or defect analysis.
The systems flexibility allows the inspection of Tracks, Solder Balls and any Non PCB Devices such as Mechanical Assemblies.
The systems are available as a low cost top loader and a competitively priced drawer loading version.
To view a demo of the images click here. Be aware that this may take a short time to load.